Now that I have my degree, the next step was to plan the logistics for my move to Seattle to work at Microsoft. I budgeted a week and a half for the trip itself, but it turns out I only needed a week to drive across the country. Luckily for me, the weather was pretty much perfect for the entire trip. The only rain that I encountered was in Texas, and there was more than enough of it there to make up for the rest of the trip.
As for this site, I'll continue to post some projects that I'm currently working on as well as some stuff that I built in the past that I haven't gotten around to posting. My developments in 3D printer upgrades, however, have been halted as I no longer have access to the 3D printers that I used for my projects. As such, don't expect any further updates in that field unless I manage to somehow get my hands on another 3D printer. I have some other interesting projects in mind though, so keep an eye out on this site for more interesting stuff.

Notable Stops
Blacksburg, Virginia (Start)
Lost Sea, Tennessee
Hot Springs National Park, Arkansas
Austin, Texas
White Sands, New Mexico
Petrified Forest, Arizona
Grand Canyon, Arizona
Hoover Dam, Nevada
Salt Lake Flats, Utah
Yellowstone, Wyoming
Bellevue, Washington (End)

Trip Statistics
Distance traveled: 4770 miles
Average speed: 56 mph
Gas efficiency: 35.6 mpg
Gas cost: $371
Hotel cost: $147 (2 days)
States visited: 12
Travel time: 8 days (5/23 – 5/30)
Driving time: 76 hours
Travel Route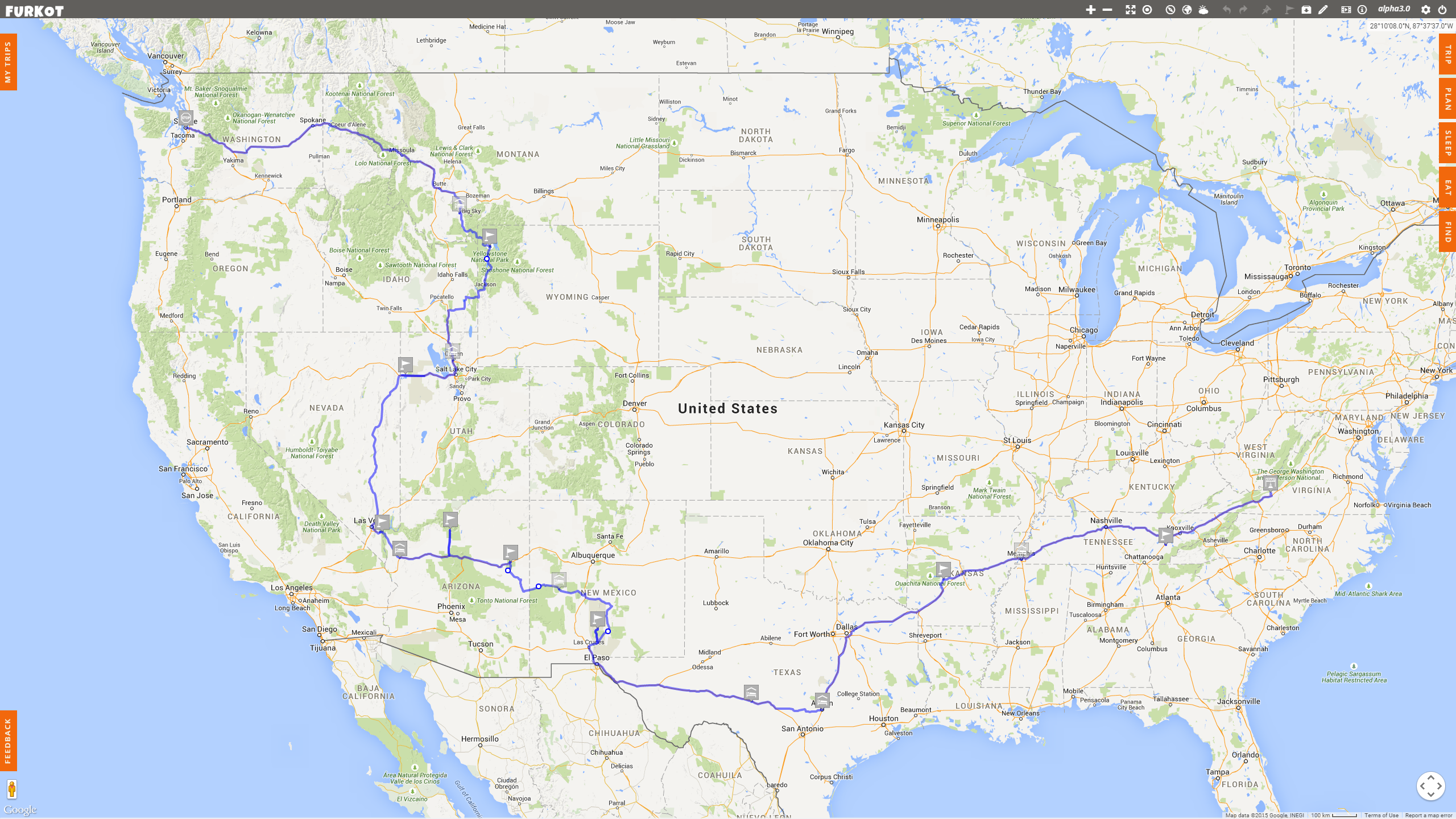 Timelapse
Photos from night driving omitted due to lack of sufficient exposure.
Photos
Austin, TX
White Sands, NM
Petrified Forest, AZ
Grand Canyon, AZ
Hoover Dam, NV
Salt Lake Flats, UT
Yellowstone, WY